Praca w liniach lotniczych Wizz Air. Rekrutacja w Polsce
POLSKA.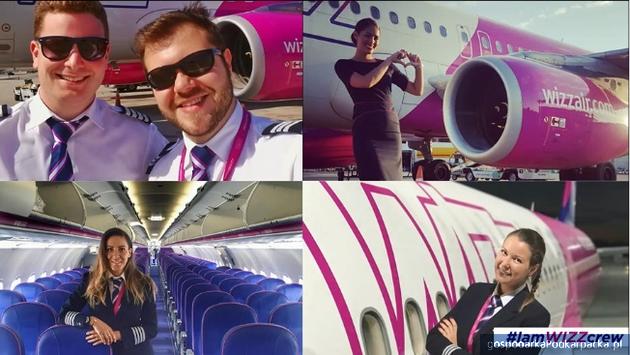 Wizz Air poszukuje wesołych, energicznych i pozytywnie nastawionych kandydatów z Polski, którzy dołączą do międzynarodowego zespołu.
Dołącz podczas dni otwartych.
NADCHODZĄCE DNI REKRUTACJI WIZZ AIR
| | | |
| --- | --- | --- |
| Data | Miasto | Miejsce |
| 11 Lut 2020 | Kraków | 09:00 Ibis Kraków Stare Miasto, ul. Pawia 15, 31-154 Kraków |
| 11 Lut 2020 | Gdańsk | 09:00 Qubus Hotel Gdańsk, ul. Chmielna 47-52, 80-748 Gdańsk |
| 13 Lut 2020 | Warszawa | 09:00 Hampton by Hilton, ul. Postępu 7, 02-676 Warszawa |
| 13 Lut 2020 | Katowice | 09:00 Novotel Katowice Centrum, Roździeńskiego 16, 40-202 Katowice |
Have you ever dreamed of a unique place of work while being on the go and meeting new people? We have good news for you: our Cabin crew life is just like that!
We are continuously searching for cheerful, energetic and positive candidates for flight attendant/cabin crew positions for our Central and Eastern European bases
JOIN OUR OPEN RECRUITMENT DAYS!
We are constantly recruiting – browse through the upcoming events nearest to you.
OPEN RECRUITMENT DAY good to knows:
Read the requirements listed below as your compliance will be checked during the recruitment event.
Arrive sharply on time and be prepared that the process might take until late afternoon.
Bring your updated English CV with ID photo.
Please be advised that you may join any recruitment event regardless of the base you are applying for.
RECRUITMENT DAY's program outline:
Short personal introduction
Situational role play
Team play
Company presentation about Crew life, compensation, career possibilities etc.
Individual interview
If you are not able to attend but you would like to apply, please submit your application in your preferred base below by clicking on Apply here.
How to start?
Scroll down for more information on the benefits and requirements.
Before applying, please take a look at the frequently asked questions on cabin crew recruitment.
A Wizz Air Flight Attendant is:
Provides excellent customer service and creates a friendly atmosphere on board
Manages in-flight sales and cash handling
Properly executes the duties related to the safety of the aircraft and the passengers, while maintaining consistency with the highest ethical standards
Welcomes passengers with a smile and helps them during the flight
Arrives at work on time, adequately rested and properly presented in order to provide these services at the highest level
You can become one if:
You are aged 18 or over
You are a minimum of 165 cm (ladies) or 175 cm (gentlemen) tall, with an arm reach of 210 cm while standing on tiptoes
You have high school degree
You are fluent – written and spoken – in English and in an additional Central Eastern European language (either Romanian, Bulgarian, Polish, Hungarian, Lithuanian, Latvian, Slovak, Czech, Macedonian, Serbian, Ukrainian, Georgian or Bosnian)
You have a valid passport without limitations (minimum 6 months)
You are able to swim
You live or are ready to move within 60 minutes of your chosen base and prepared to make this journey upon work schedule
You don't have tattoos and/or piercing on parts of the body that are visible when wearing uniform
You are an enthusiastic person who likes working with people
Please note that if you wear glasses or contact lenses and your prescription is above +4 or below -4, you are unlikely to pass the mandatory medical examination
What we can offer you:
A competitive salary
A stable job at a rapidly developing company
A friendly and multicultural work environment
Career opportunities
Discounts on flights & bonus airline tickets (even for your family and friends)
New challenges every day
Complete and free Cabin Crew training
Work according to a duty roster (schedule) published monthly, 2 weeks beforehand
Should you experience any difficulties during the application process, please contact our Cabin Crew Recruitment team via cabin.crew@wizzair.com.